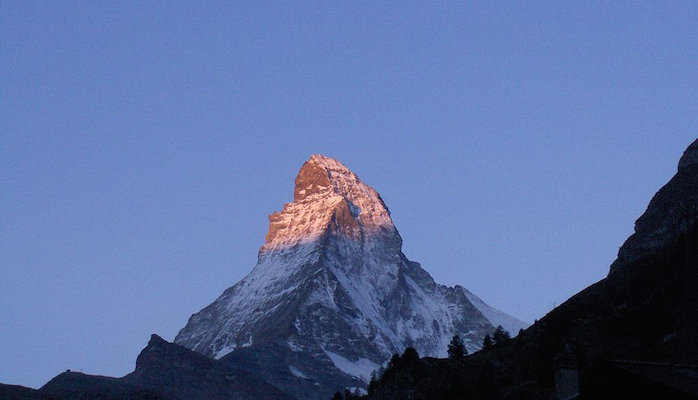 150 years ago, British Mountaineer Edward Whymper led a party of 6 climbers to the summit of the Matterhorn in Switzerland.
At 4,478m, the Matterhorn is not the highest mountain in the Alps, or indeed in Switzerland, but it's distinctive shape (found on Toblerone chocolate bars and Caran d'Ache pencil boxes amongst others) makes it the most iconic.
It's a steep scramble up a knife edge ridge, often covered in snow and ice near the summit.
They made it to the top but only 2 the party returned alive.
After an hour of soaking up the summit, the team of 6 started their descent. Soon after, one of the party slipped, falling onto another and then dragged two more from the mountain. The rope snapped under the strain leaving Whymper to return to the valley with just one other member of his party. It was hardly a victory celebration and the accident would haunt him for the rest of his life.
Controversy ensued. Was the rope cut? Nothing was ever proved. Why were so many young Englishmen risking their lives for this mountaineering folly?
It's the very risk that can make the endeavour thrilling.
It's battling your internal demons to push on and succeed.
It's using the resources at your disposal to reach your goal.
It's to stand on summits that are only gained through hard effort.
It's to do what most other people wouldn't dare dream of.
There are many parallels with entrepreneurship. Entrepreneurs too have their own summit to climb. It's best to go as a team, it's good to be prepared.
Whymper wrote in his book, "Scrambles Amongst the Alps"...
"Climb if you will, but remember that courage and strength are nought without prudence, and that a momentary negligence may destroy the happiness of a lifetime. Do nothing in haste; look well to each step; and from the beginning think what may be the end."
Food for thought.
Right, I'm off to climb a few mountains. See you next week.
Image by Habu69 (Own work) [GFDL or CC BY-SA 3.0], via Wikimedia Commons